Welcome to the NewspaperWood Sample Shop. An easy and convenient way to order samples for internal presentations, material libraries, etc.
Please note the NewspaperWood material is based on 'tabloid sized' newspapers as source material. Therefore the maximum sheet size is appr. 21 x 40 cm, but not all available material has this maximum size.
All material samples in this shop are untreated (without any lacquer or protection).
Especially the loose sheets are fragile as, for example, wood veneer is. Therefore we supply them here on a kraft-paper backing or black MDF panel for presentation purposes.
We are currently redeveloping our process to improve material quality and production speed to a new NewspaperWood 2.0 material.
The material here available is what we call NewspaperWood 1.0 – the material as it was originally designed. This means the samples are a result of tests we are doing on our custom made machine and not a product that is produced in higher quantities yet. This is also why every batch and every sample will be slightly different and unique, as we are testing different glues, curves, etc.
If you have any questions, please do not hesitate to contact us.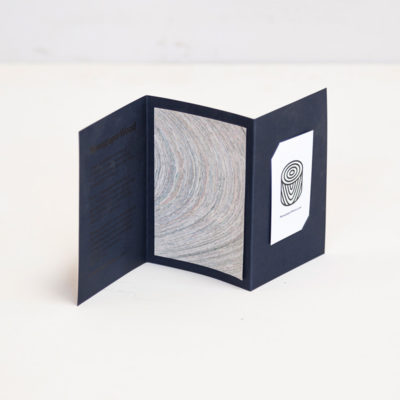 Sample card
Our smallest NewspaperWood sample option comes as a folded cardboard with a short text about the concept of NewspaperWood, a small piece (appr. 9 x 13cm) of 0.6 mm NewspaperWood veneer on a kraftpaper backing, and a business card inside.
---
Shipping costs & tax will be calculated at checkout.
When in stock, shipped out within a few days with FedEx or GLS, for urgent requests, please contact us after order.
---
€

15,00
Add to cart